It is really a pity that I did not bring on Friday a camera with me - it would have been nice to show you evidence of the "rainy season Entrepreneurs" I saw! Sometimes it can be really entertaining to go out in Colombian cities when it rains ...
So, here is the ranking of called my attention today ...
# 3 - The guy selling umbrellas
:
Now , this is a classical one. Yet, it never stops surprising me how much these guys take advantage of the "poor" (or dumb?) people - me being at times one of them - that inspite of knowing that it`s raining every day, do not carry an umbrella with them.
I was at a corner today waiting for a cab and in less than 5 minutes, I swear, I saw a guy selling at least 5 umbrellas, and what`s most relevant, at 5-8 USD each ... when for the quality of those they should not cost more than 2 USD. Yet, when it`s pouring, you pay whatever it takes to have even a crappy umbrella, which is highly likely that you pile up and forget at home ... giving the chance to these "entrepreneurs" to sell you again and again... I prohibited myself recently to keep buying umbrellas! I showered completely last time but that was the only way to get the discipline of carrying one . Also, something cool that those sellers do, is that they walk into the lobbies of the buildings (where people are crowded together "waiting for the rain to stop" - but at the same time suffering because they are really in a super hurry) and offer the goods. I was in this situation once, and out of like 20 people, around 10 bought one. Common sense actions that boost revenues ...
# 2 - The "improvised" plastic cealing:
As some of you might know in Bogotá there are lots of street sellers, which mainly offer stuff like candies, fast food and take away beverages. Below you can see how it more and less looks like.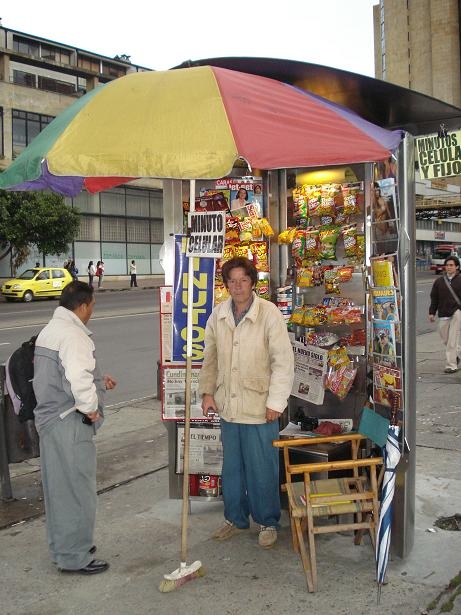 The # 2 position goes to a guy that literally put an improvised huge cealing of plastic (I guess of around 10 Sq Mts of roof made out of plastic bags) right in front of its mini-shop. Of course when it starts raining lots of people just land there, wet and panting, but relieved to find at least 1/2 Sq mt where each one can stand. Of course the seller starts offering warm coffee, aromatica (herbal infusion) and other types of snacks, which wanting it or not you just buy. If you do not buy, people below the plastic ceiling ask you to leave!!! - and give you place to someone that is willing to "consume". I was passing by with my umbrella and also felt like having an aromatica. I did not stand under the improvised roof, but yet I started talking to the guy and asked him about his "patic bags ceiling". He said it was his salvation, he could sell in 1 hour rain what sometimes he was not able to sell in a whole morning on a wet day.
# 3 - The "arroyo" mini bridge:
This one I did not see in Bogotá, yet it is very common in Barranquilla, my home city. For some geographical condition issue, plus a lack of suitable

sewer system/

drains, Barranquilla is a city that has lost of arroyos.
The best way to know what an "arroyo" is, is probably just taking a look at one of them. It`s like a river on a street ...
"Arroyos" can be quite dangerous. One tends to speak about them almost like a touristic attraction at times, yet the topic is not even funny. Not only because it exposes every year the lack of infrastructure of the city and how over decades the problem has not been solved, but also because every year during the rainy season (imprudent) people get injured and sadly some of them have died, trying to face "arroyos". Barranquilla is (so far) the only city I know where you actually find a formal signal warning for "arroyos".
Coming back to my story, the # 1 endeavor I want to portrait is the one of the guys that in Barranquilla improvise a "bridge" made out of random planks/boards of wood. They put these planks from one side of the road to the other, allowing you to cross the street despite the massive arroyos. Some of them also "offer" to walk with you over the plank with an umbrella, if you do not have one. I remember when I used to use this "service" in Barranquilla, that I always asked the guys to go with me, since I found it a bit scary. The "right" to pass, costs you "whatever you want to give them" (which in local understanding could be up until 0,5 USD ... but make sure you give something, otherwise they get really pissed off. This one for me is the winner ... "arroyos" keep flowing up several hours after the rain is gone... these guys can easily, out of nothing, make a living those days just by putting a wooden plank on a street... and well, even if it was not that common, I managed to also see some guys that instead of wooden boards, used big stones... but the demand for these ones was way lower ... of course ...
Anyways, I know I am ignoring lots of crazy subsistence endeavors that take place when it rains. For us, Colombians, rain is not part of our agendas ... we dislike it completely ... it`s the perfect excuse to not go out, to feel "sad", to feel "cold" - we are sunny people. Yet, as can see, for a good % of people, rain is subsistence.
Have you any other "rain" entrepreneurial story to share?